Welcome to the Wonderful World of LSD is a 10 track record created by the supergroup consisting of chart-topping singer Sia, British hit talent Labrinth, and Grammy-winning DJ, Diplo.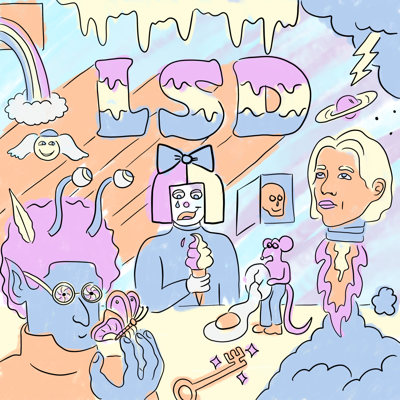 The record starts out with a strange robotic introduction; not what you would typically expect from Labrinth and Sia. Most of the songs following that, consist primarily of standard-issue synth pop, with many vocal fragments from Sia and Labrinth.
The hit song from the record and my personal favorite is "Thundercloud". It has a rocksteady beat, and the vocal flow and chemistry between Labrinth and Sia is phenomenal. The mix of their vocals together is very complimentary, and it highlights their full vocal range.
The record ends with "Genius", which is a remix with Lil Wayne where he reorders the alphabet to chant the group's name. It is a fun way to end the record, and although this is not the normal release you would expect to hear labyrinth and Sia in – I really enjoyed it and thought the addition of Diplo made it a terrific record with high energetic beats and phenomenal vocals.
By Kylee White